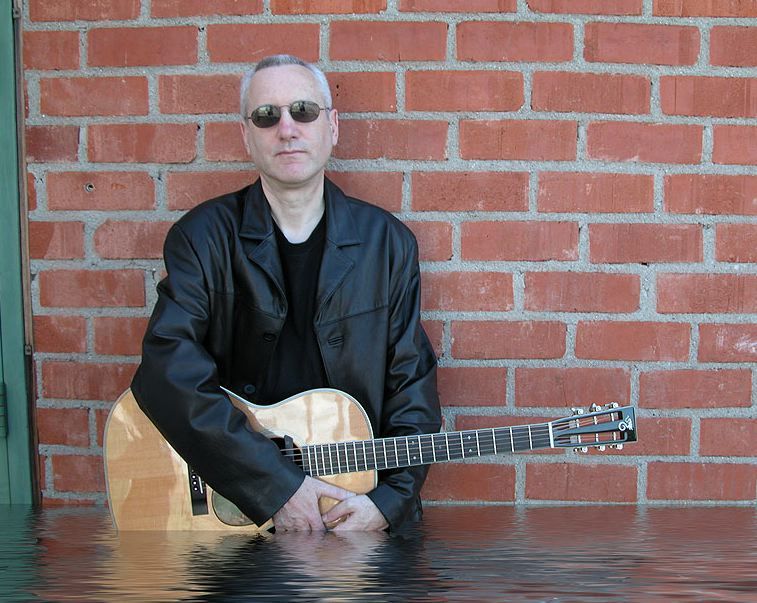 "If the Carter Family, Robbie Robertson and Alfred Hitchcock had written songs together, they might sound like this." That is singer-songwriter Ernest Troost's self-introduction when he takes the stage, whether he's playing for festival-goers at the prestigious Kerrville Folk Festival in Texas, where he was named New Folk Winner in 2009, or performing at select clubs and coffeehouses around greater Los Angeles. It's a clever statement that hints at the spirit of his folk-blues tunes — and Troost himself. When audiences hear his beautiful melodies and deftly detailed lyrics, they're curious to learn more about him.
"Father, Father, I must confess
I been runnin' with a crowd that thinks they know best
I seen 'em beat a song till it could not stand
It finally gave in and put some money in their hands"
Countless dreamers land in Los Angeles with songs in their pocket, and bang on their guitars until reality trumps their aspirations and they're forced to re-examine their craft. Troost took the opposite approach. After studying jazz guitar and classical music at Berklee College of Music, he emerged with a pragmatic desire to "make my living composing music," which led him to Hollywood. He's earned numerous Emmy Award nominations and one Emmy composing scores for TV and films, including the cult classic Tremors, HBO's A Lesson Before Dying, many Hallmark Hall of Fame specials and, more recently, the Campbell Scott indie film Crashing, which features the title track from Troost's album All the Boats Are Gonna Rise. He also composed, arranged and produced two critically praised albums for Judy Collins. That's a resume on which many artists would happily rest their laurels, but commercial success didn't still the nagging restlessness Troost felt inside. Then, six years ago, he had an epiphany when he strolled into McCabe's, Santa Monica's legendary guitar shop and concert venue. "I walked in there and was overwhelmed with this feeling, this amazing vibration from the place, very warm and friendly."
"I got the past in my pockets and the future's in my shoes
Playin' some of those old resurrection blues"
A masterful craftsman with a fluid guitar style, he boned up on Piedmont blues and resolved to write more songs. Concurrently, the house he and his wife had recently bought provided another pivotal moment in his artistic evolution, as he learned about the woman who'd built it with her family in 1937. "She kept stacks of books and a rocking chair on the front porch, and neighborhood kids always hung out there because she'd read to them," Troost relates. "She had a knack for drawing out each child's unique qualities. Our neighbor said the house was blessed with incredibly good karma. I don't know, there was just something about her story . . . it made me feel I could let go and try something different. Songwriting was something I had put in the trunk and sat on for 20 years because it was an impractical thing to do. But I said, 'OK, the scariest thing I could do in my life is write a song and go up on stage and play it.' I had not done it since high school. So I decided, 'That's what I'm going to do.'" A month later he returned to McCabe's for an open mic night, where he played "All the Boats Are Gonna Rise." "I thought I was going to have a heart attack onstage, I really did," he says with a laugh. "But I got through it. And people went nuts for the song. Three or four open mic nights later, I played 'Evangeline,' and the pro soundman grabbed me and said, 'that's the best song I've heard at an open mic in the last ten years.' Those people gave me the confidence to take time to focus on my songwriting." In 2004 he released his first solo album, All the Boats Are Gonna Rise, which earned accolades for his graceful melodies and guitar playing, and comparisons to the likes of Dave Alvin and Richard Thompson. He started playing more coffeehouses, house concerts and festivals, and launched a monthly singer-songwriter night in Venice called the Juke Joint Gang. As word spread about Troost, other LA singer-songwriters started covering his songs, including Lauren Adams, Lisa O'Kane and Nicole Gordon. "Ernest's songs allow me to go into character and find new places within myself," says Gordon, who also adds harmony to several tracks on Troost's newest album, Resurrection Blues. "It's as if I get to bring to life a chapter from a 1920s whodunit mystery. His songs are thoughtful and timeless."
"Why you gotta try when it's black as a kettle and the moon is howlin' for a toll
A cottonmouth breeze is a-windin' through the thicket and it's lookin' 'round for a soul"
Troost says, "I can remember as a kid my father reading aloud Coleridge's "Rime of the Ancient Mariner" and Poe's "Raven" to the family. I was too young to really appreciate those poems, but I think their musicality and dark romantic nature had a powerful effect on me. It's storytelling that really excites me. I call my songwriting style cinematic folk--I try to create a vivid world of images and music that envelops the listener." In delicious contrast to the orchestral grandeur of his film compositions, the simply produced Resurrection Blues showcases Troost's lyrical taste for earthy ramblers, gamblers and small-town dreamers, and dark story songs like "Sad Dog Blues" and "By and By." Those striking murder tales are counterbalanced by the love jauntily pledged over his sprightly fretwork in "My Baby Loves Me" and "Doubtin' Blues," and the hope in the album-closing "Lonesome Gospel Blues." Bolstered by his Kerrville win and a summertime concert with British folk hero Billy Bragg, Troost is currently planning concerts for 2014 — including the release of his newest album, O Love.
"Playin' these blues will steal your health
But if God made anything better, well, he kept it for himself"
Sign-up for the latest news!